Projects that take more than a single generation to complete — the Ultimate Project that would build a multi-generational starship is a classic example — keep the issue of long-term thinking bubbling in these pages. The immense distances to the stars almost force the issue upon us. I'm reminded of something Hoppy Price told me at JPL five years ago. I was researching my Centauri Dreams book and we had been discussing the idea that scientists should see the end of the projects they start.
"Robert Forward talked about getting there in fifty years or less, a time scale that seemed to make sense because it would equal the possible lifetime involvement of a researcher," Price said. "What may be more reasonable is to take a little more time. Because we're also working on the beginnings of a program to build very long lifetime electronics, systems that can operate for up to two hundred years. If you let yourself take two, even three hundred years to get there, the problem of propulsion becomes a bit easier. We as a culture may have to start thinking in terms like that. The average worker on a medieval cathedral didn't live to see it completed. My view is that the first time we send something to Alpha Centauri, it will probably take hundreds of years to get there."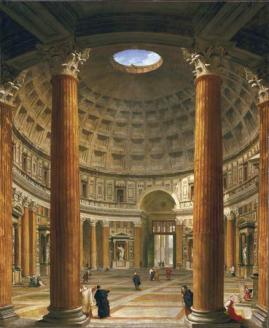 As NASA's lead investigator on solar sails, Price had been thinking about these things for some time before I walked into his office that day. Note the medieval cathedral he mentions, a frequent reference in such discussions (and see the comments to yesterday's story for more). It may seem hard to believe, but long-term missions to Alpha Centauri aren't hugely beyond today's technologies. Although the basics of the Innovative Interstellar Explorer design have changed, Ralph McNutt (Johns Hopkins Applied Physics Laboratory) has studied systems that could take a probe to 1000 AU in less than fifty years. Now imagine that system ramped up to move ten times faster. The resultant craft would reach Alpha Centauri in about 1400 years.
1400 years. Buildings on Earth — the Hagia Sophia in Constantinople, the Pantheon in Rome — have been maintained for longer than that.
Image: An 18th Century view of the Pantheon by Italian artist Giovanni Paolo Pannini. If we can keep a building alive for over a millennium, can we do the same with a spacecraft?
We all want to see faster propulsion technologies (this is why the Tau Zero Foundation is trying to support ongoing research through philanthropy). But it's interesting to see how we cope with long-term solutions to things. In the business world as opposed to the ecclesiastical realm of cathedrals, we have abundant examples of companies that have been handed down for centuries within the same family. Construction firm Kongo Gumi, for example, was founded in Osaka in 578, and ended business activity only last year, being operated by the 40th generation of the family involved. The Buddhist Shitennoji Temple and many other well known buildings in Japanese history owe much to this ancient firm.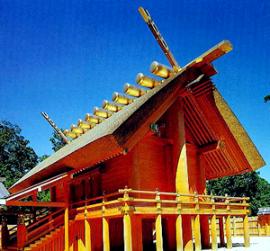 And here's another, also from Japan. Hoshi Ryokan is an innkeeping company founded in Komatsu in 718 and now operated by the family's 46th generation. If you're ever in Komatsu, you can go to a hotel that has been operated on the site ever since. Nor do we have to stay in Japan. Fonderia Pontificia Marinelli has been making bells in Agnore, Italy since the year 1000, while the firm of Richard de Bas, founded in 1326, continues to make paper in Amvert d'Auvergne, providing its products for the likes of Braque and Picasso. I'm drawing this list from The 100 Oldest Companies in the World (thanks to Stewart Brand's Long Now Foundation for the pointer) and continuing to muse on our species' ability to work and preserve.
Image: Japan's Ise Shrine (Mie prefecture, Japan). The wooden temple complex has been rebuilt every twenty years for the last thousand, a classic example of long-term effort in maintaining a structure.
We live in a world of immediate satisfaction, snapping up luxury goods with every tick of the eighteen month cycle of the digital revolution, but it's good to step back and reflect on the things that last. Ultimately, exploration is less about the individual and more about the species, as is scientific discovery itself. And I would wager that if we do fail to find a means for shortening the interstellar trip in the next century or two, we'll still make the journey. Maybe with generation ships, maybe with robotics, and using who knows which currently feasible system of propulsion. Let's keep thinking about innovative technologies, but let's remember that in the broader scheme, our species has shown it can go for the long haul.