Here's an image of the possible Martian pack ice, taken by Mars Express' High Resolution Stereo Camera (HRSC), which is imaging the entire planet in full colour, 3-D and with a resolution of about 10 metres. The 3-D capability allows us to see Martian topography in unprecedented detail. Look here for other extraordinarily detailed images.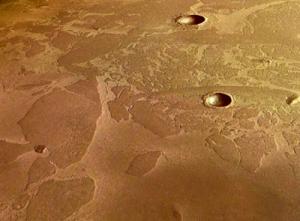 This image, taken by the High Resolution Stereo Camera (HRSC) on board ESA's Mars Express spacecraft, during orbit 32, shows what appears to be a dust-covered frozen sea near the Martian equator. It shows a flat plain, part of the Elysium Planitia. The scene is a few tens of kilometres across, centred on latitude 5º North and longitude 150º East. Credits: ESA/DLR/FU Berlin (G. Neukum)
Meanwhile, findings from Mars Express were discussed in a news conference on the 25th. To say the session was packed with news is an understatement: we have not only the possible pack ice but discussions of Martian methane and formaledhyde and their significance for the hunt for life, as well as much on volcanic and geological activity (some of it evidently recent, according to ESA). The six instruments on Mars Express have had quite a year. You can read more on what each has discovered in this ESA press release.
Also announced at the session were the results of a poll of many of the 250 Mars experts present. 75 percent of them said no when asked whether life could be present on Mars today, though when asked whether life might once have existed on the Red Planet, 75 percent said yes. The above image — and the presence of methane in the atmosphere — remain provocative. Surely the demand for a sample return mission will continue to grow.