According to a recent NASA news release, the agency has never before signed the kind of agreement it has made with Skycorp, Inc., a Los Gatos, CA-based firm that will now attempt contact with the International Sun-Earth Explorer-3 (ISEE-3) spacecraft. You'll recall that this is the vehicle that scientists and space activists alike have been talking about resurrecting now that, having completed its studies of the solar wind in 1981 and later comet observations, it is making its closest approach to the Earth in more than thirty years (see ISEE-3: The Challenge of the Long Duration Flight).
According to its website, Skycorp is in the business of bringing "…new technologies, new approaches, and reduced cost to the manufacture of spacecraft and space systems." Founded in 1998, the company signed a Space Act Agreement with NASA for the use of the International Space Station in 1999, and qualified the first commercial payload used in the filming of a television commercial (for Radio Shack) in 2001. In addition to its ISEE-3 involvement, Skycorp is now working on an orbit servicing system (for Orbital Recovery Corporation) and the design of lunar surface systems with NASA.
The document NASA has now signed is a Non-Reimbursable Space Act Agreement (NRSAA) with Skycorp that involves not just contact with the ISEE-3 spacecraft but, possibly, command and control over it. ISEE-3 will near the Earth this August, and the agreement lays out the variety of what NASA describes as "technical, safety, legal and proprietary issues" that will need to be addressed before contacting and re-purposing the spacecraft can be attempted.
"The intrepid ISEE-3 spacecraft was sent away from its primary mission to study the physics of the solar wind extending its mission of discovery to study two comets." said John Grunsfeld, astronaut and associate administrator for the Science Mission Directorate at NASA headquarters in Washington. "We have a chance to engage a new generation of citizen scientists through this creative effort to recapture the ISEE-3 spacecraft as it zips by the Earth this summer."
It's hard not to get excited about the prospects here. The ISEE-3 Reboot Project works with a spacecraft that, although inactive for many years, still contains fuel and probably functional instruments. Of course, ISEE-3's reactivation will be handled remotely, but in the 1960s this would have made a great scenario for a short story in one of the science fiction magazines. In that era, ideas like in-space repair of satellites and salvage and re-use of older equipment by human crews were concepts made fresh by the sudden progress of the manned space program. After all, we were doing space walks!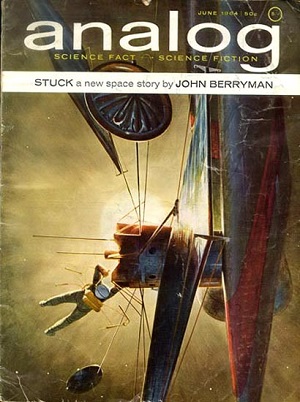 I'm remembering "The Trouble with Telstar," a 1963 story by John Berryman (the SF writer, not the poet) that brought home to readers what would be involved in maintaining a space infrastructure. In the editorial squib introducing it, John Campbell wrote: "The real trouble with communications satellites is the enormous difficulty of repairing even the simplest little trouble. You need such a loooong screwdriver." It was a lesson we'd learn again in spades with the Hubble repairs. Berryman, a writer and engineer who died in 1988, followed up with "Stuck," another tale of space repair that inspired the gorgeous John Schoenherr cover at the right.
Fortunately, the reactivation of ISEE-3 isn't a hands-on repair job and we can attempt to salvage this bird from Earth. Current thinking is to insert the spacecraft into an orbit at the L1 Lagrangian point, at which time the probe would be put back into operations. In this sense, ISEE-3 is an interesting measure of our ability to build long-term hardware. Like Voyager, the diminutive spacecraft was never intended for activities over this kind of time-frame, but new operations do appear possible. Everything depends, of course, upon the satellite's close approach this summer, for if communications cannot be established, it will simply continue its orbit of the Sun.
So we have a "citizen science" program hard at work on a novel problem, with the help of the agency that put the spacecraft into motion all those years ago. Any new data from a re-born ISEE-3 is to be broadly shared within the science community and the public, offering a useful educational tool showing how we gather data in space and disseminate the results. We'll also learn a good deal about how spacecraft endure the space environment over a span of decades, information that will contribute to our thinking about future probes on long missions and potentially extendable observation windows.
Not bad for a satellite sent out over three decades ago to study how the solar wind can affect satellites in Earth orbit and possibly disrupt our sensitive technological infrastructure. I'm now wondering whether there are other spacecraft out there that might be brought back to life, and reminded that when we build things to last, we can discover uses that the original designers may not have dreamed of. That's a lesson we'll want to remember as we create mission concepts around any new space hardware.