The spectacular success of New Horizons inevitably leads to questions about what an orbiter at Pluto/Charon might accomplish. It's heartening that NASA has funded the Southwest Research Institute (SwRI) to look further into the matter, the Institute having already examined the question on its own. Now a Pluto orbiter becomes one of ten mission studies NASA is sponsoring as we look toward the next National Academy Planetary Science Decadal Survey. Beginning in 2020, the survey will outline science objectives and recommend missions over a ten year period.
The NASA decision leverages all the work SwRI has put into the Pluto orbiter concept, and brings the focus to what we might accomplish with such a mission that a flyby could not. Particularly significant will be the choice of science instruments, which a spacecraft achieving global coverage will demand. And because we have a system at Pluto with five moons, we have a range of targets that can be subjected to detailed study. There is even the possibility of taking the mission to other targets, as New Horizons principal investigator Alan Stern explained:
"In an SwRI-funded study that preceded this new NASA-funded study, we developed a Pluto system orbital tour, showing the mission was possible with planned capability launch vehicles and existing electric propulsion systems. We also showed it is possible to use gravity assists from Pluto's largest moon, Charon, to escape Pluto orbit and to go back into the Kuiper Belt for the exploration of more KBOs like MU69 and at least one more dwarf planet for comparison to Pluto."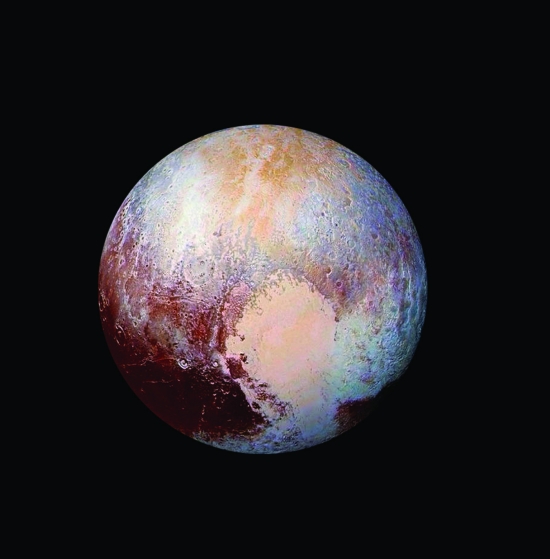 Image: To follow up on NASA's New Horizons mission that revealed Pluto's "heart," SwRI is studying a new Pluto orbiter mission for NASA. SwRI has shown it is possible to orbit Pluto and then escape orbit to tour additional dwarf planets and Kuiper Belt Objects. Credit: NASA/JHUAPL/SwRI.
New Horizons carries seven instruments, all of which are still functioning well, as we learned from Stern in his latest PI's Perspective. Having flown past Ultima Thule (2014 MU69), New Horizons continues to explore the Kuiper Belt, and it will be instructive to see how long it continues to return data. The Voyagers have demonstrated longevity far beyond the expectations of those who built them, Right now the spacecraft is continuing to return data on the Ultima Thule flyby, a process that will last another year or so, according to Stern, but New Horizons is also continuing to observe KBOs as it moves ever further out..
The seven scientific instruments aboard the spacecraft have just been put through a thorough calibration, the first such campaign run since just before the Pluto/Charon flyby. As with the Ultima Thule data, the complete calibration results will be returned with the dataflow over the next year, though Stern says the instruments 'performed flawlessly.' The crucial Long Range Reconnaissance Imager (LORRI) has received a software upgrade designed to detect fainter targets than before as well as to enable longer exposures. The new capability will be in place by December for further Kuiper Belt exploration.
We still don't have a dedicated mission to the interstellar medium, meaning one with an instrument package expressly designed for operations beyond the heliosphere, but we do have continuing dust and plasma observations of the outer heliosphere from New Horizons. This is useful stuff, because we are building a dataset that complements what the two Voyagers have given us, though the New Horizons instrument package is more capable. Planetary scientists will take advantage of observations like these in learning more about how the surfaces of KBOs and dwarf planets are affected by the environment through which they orbit.
A number of science papers on Pluto/Charon and Ultima Thule are about to be submitted, with dozens of new results reported at the recent Division for Planetary Sciences meeting in Geneva. You can see that New Horizons is very much an ongoing mission, even as we look toward the benefits of a Pluto orbiter that is at least under study not just at SwRI but NASA. The continued naming of Pluto surface features is a reminder of how much we've learned, but imagine how we can fill out these young maps with features yet to be observed in detail.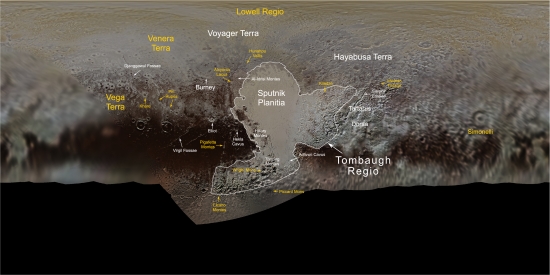 Image (click to enlarge): This map, compiled from images and data gathered by NASA's New Horizons spacecraft during its flight through the Pluto system in 2015, contains Pluto feature names approved by the International Astronomical Union. Names from the newest round of nominations, approved in 2019, are in yellow. Credit: NASA/Johns Hopkins University Applied Physics Laboratory/Southwest Research Institute/Ross Beyer.