Rain seems to have been plentiful at Titan's south pole. A new analysis of Cassini imagery compares the region in recent times with what it was about a year earlier, noting new features in areas many scientists believe to be lakes of liquid hydrocarbons. Adding to the conjecture is the fact that extensive cloud systems covered the region during this period, evidence for a large rainstorm amid changing seasons. All this comes from the almost global surface map Cassini's Imaging Science Subsystem has been acquiring since April of 2004.
Have a look at some of this imagery, and keep an eye in particular on Ontario Lacus, at the bottom of each image, noting the difference in brightness.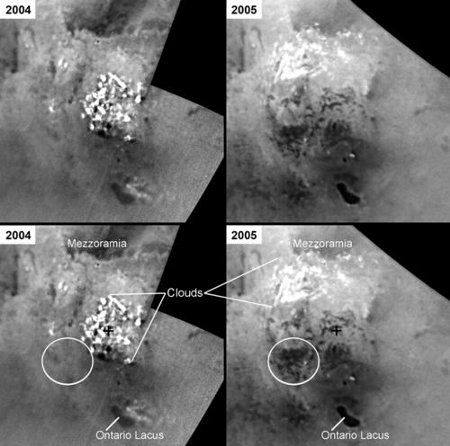 Image (click to enlarge): The images on the left (unlabeled at top and labeled at bottom) were acquired July 3, 2004. Those on the right were taken June 6, 2005. In the 2005 images, new dark areas are visible and have been circled in the labeled version. The very bright features are clouds in the lower atmosphere (the troposphere). Titan's clouds behave similarly to those on Earth, changing rapidly on timescales of hours and appearing in different places from day to day. During the year that elapsed between these two observations, clouds were frequently observed at Titan's south pole by observers on Earth and by Cassini's imaging science subsystem. Credit: NASA/JPL/Space Science Institute.
We now watch to see what happens as summer approaches in Titan's northern 'lake district.' The Cassini team has released an updated map that includes near infrared images of a part of this area, adding to observations from other Cassini instruments that show greater amounts of liquid methane in the northern hemisphere than the southern. By all accounts, then, things should get active up north as the seasons progress. An active weather cycle with convective cloud systems and plentiful precipitation may well be the result, probably in amounts larger than we've documented so far in the south.
A Cassini news release covers the release of the latest map and goes on to point out an interesting fact: Although some of the northern lakes are quite large — Kraken Mare, if full, would be five times the size of Lake Superior — evaporation from the surface cannot account for the replenishment of the atmospheric methane lost through rainfall and surface deposition of haze particles. Elizabeth Turtle (Johns Hopkins Applied Physics Lab) explains:
"A recent study suggested that there's not enough liquid methane on Titan's surface to resupply the atmosphere over long geologic timescales. Our new map provides more coverage of Titan's poles, but even if all of the features we see there were filled with liquid methane, there's still not enough to sustain the atmosphere for more than 10 million years."
That points to underground reservoirs of methane amidst a terrain filled with interesting organic chemistry. Even so, how long can this atmosphere persist? Another question is why we find liquids collecting in the polar regions and not at the lower latitudes. One thing on Cassini's future agenda will be the study of clouds and temporary lakes near the equator as peak sunlight shifts in the spring and fall. For more, see Turtle et al., "Cassini imaging of Titan's high-latitude lakes, clouds, and south-polar surface changes," Geophysical Research Letters 36 (29 January 2009), p. L02204 (abstract).