I'm glad to see Ralph McNutt quoted in a recent news release from the Johns Hopkins Applied Physics Laboratory. McNutt has been working on interstellar concepts for a long time, including the Innovative Interstellar Explorer mission that could become a follow-up to New Horizons. But he's in the news in late August because of Voyager, and in particular Voyager 2, which made its flyby of Neptune on August 25, 1989, some 25 years ago. McNutt recalls those days, when he was a member of the Voyager plasma-analysis team:
"The feeling 25 years ago was that this was really cool, because we're going to see Neptune and Triton up-close for the first time. The same is happening for New Horizons. Even this summer, when we're still a year out and our cameras can only spot Pluto and its largest moon as dots, we know we're in for something incredible ahead."
I can only envy someone who was up close with the Voyager outer planet flybys and is now a key player on New Horizons, for which McNutt leads the energetic-particle investigation team. The image below is a long way from the much closer views Voyager gave us of Neptune, but it's what New Horizons could make out with its Long-Range Reconnaissance Imager in mid-July. It's what NASA's Jim Green calls a 'cosmic coincidence' that New Horizons crossed the orbit of Neptune on the 25th anniversary of the Voyager flyby.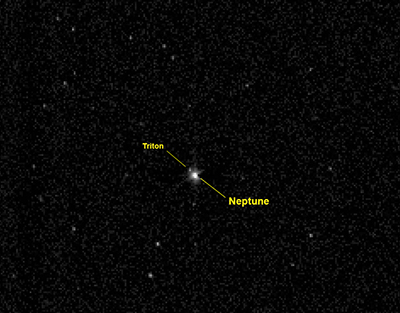 Image: The New Horizons spacecraft captured this view of the giant planet Neptune and its large moon Triton on July 10, 2014, from a distance of about 3.96 billion kilometers — more than 26 times the distance between the Earth and sun. The 967-millisecond exposure was taken with the New Horizons telescopic Long-Range Reconnaissance Imager (LORRI). New Horizons traversed the orbit of Neptune on Aug. 25, 2014 — its last planetary orbit crossing before beginning an encounter with Pluto in January 2015. In fact, at the time of the orbit crossing, New Horizons was much closer to its target planet — just about 440 million kilometers — than to Neptune.
I can remember staying up late the night of the Neptune encounter, being most curious not about Neptune itself but its moon Triton. We had already learned to expect surprises from Voyager — Io alone made that point — and Triton did not disappoint us with its unanticipated plumes, signs that the frozen world was active, and its odd 'cantaloupe' terrain. A bit larger than Pluto, Triton serves as a rough guide for what to expect at Pluto/Charon, but it's also a point of departure, given its evident capture by Neptune and the resulting tidal heating.
Remember, this is a world that follows a retrograde orbit, moving opposite to Neptune's rotation. The odds are strong that we're looking at an object captured from the Kuiper Belt. Gravitational stresses would account for melting within this ice world, and explain the fractures and plume activity, evidently geysers of nitrogen, that Voyager saw. A newly restored Triton map, produced by Paul Schenk (Lunar and Planetary Institute) has a resolution of 600 meters per pixel and has been enhanced for contrast.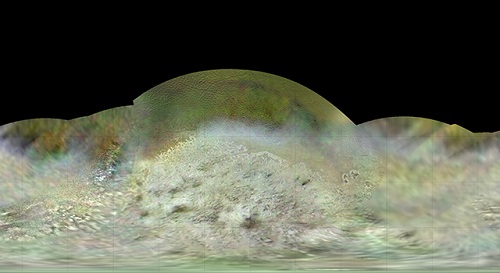 Image: The best-ever global color map of Neptune's large moon Triton, produced by Paul Schenk. This map has a resolution of 600 meters per pixel. The colors have been enhanced to bring out the contrast but are a close approximation to Triton's natural colors. Voyager's "eyes" saw in colors slightly different from human eyes, and this map was produced using orange, green and blue filter images. Credit: Paul Shenk/LPI.
The video using the same data is a bit breathtaking. Have a look.
Keep in mind the limitations of the imagery. In 1989, the year of the Voyager flyby, Triton's northern hemisphere was swathed in darkness, allowing the spacecraft to have a clear view of only one hemisphere during its closest approach. Now we wait to see what views New Horizons will generate of Pluto/Charon next summer. Given that Triton and Pluto are similar in density and composition, with carbon monoxide, carbon dioxide, nitrogen and methane ices on the surface, we may see some similar features. Will there be plumes on Pluto?