Asteroids are certainly having their moment in the press, what with the combined attention being paid first to Planetary Resources and its plans for asteroid mining, and now the B612 Foundation, with a plan that in some ways tracks the Planetary Resources model. As announced yesterday, B612 intends to build a space telescope using private funding and launch it into a Solar orbit, from which it can carry out discovery and mapping operations targeting asteroids that might pose a threat to the Earth. You'll recall that Planetary Resources also has an ambitious agenda in terms of developing a series of small space telescopes.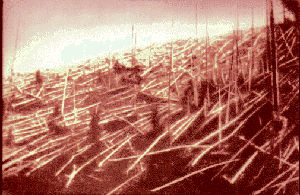 NASA, it's true, is already searching for Earth-crossing asteroids, and between ground-based efforts and space-borne missions like the Wide-Field Infrared Survey Explorer, thousands of asteroids that pass near the Earth have been discovered. But what the B612 Foundation is calling Sentinel will be dedicated to finding the smaller objects whose effect could still be catastrophic. I see that Ed Lu, a seasoned astronaut who is now chairman and CEO of the Foundation, has the most recent impact in mind when he describes the mission:
"The orbits of the inner solar system where Earth lies are populated with a half million asteroids larger than the one that struck Tunguska (June 30, 1908), and yet we've identified and mapped only about one percent of these asteroids to date. During its 5.5-year mission survey time, Sentinel will discover and track half a million Near Earth Asteroids, creating a dynamic map that will provide the blueprint for future exploration of our Solar System, while protecting the future of humanity on Earth."
Image: Fallen trees at Tunguska, in a photo taken in 1927, long after the event. Credit: Wikimedia Commons.
Tunguska was, of course, a catastrophe we dodged, but only because it fell in a relatively unpopulated area of Siberia. Theories differ as to exactly what the object was, but whatever struck this remote region created the largest impact event in recorded history. The explosion knocked down trees over an area covering 2150 square kilometers. We can only imagine what would happen if an explosion of this size took place over a large metropolitan area.
Thus the 5.5-year mission of Sentinel, to be built by Ball Aerospace and the team behind the Spitzer and Kepler space telescopes. The plan is to catalog 90 percent of the asteroids larger than 140 meters, with the capability of discovering objects as small as 30 meters in diameter. As to Tunguska-sized objects (40-meters wide), B612 thinks it can find 50 percent of them.
The 1.5 ton telescope works in the infrared with a 50-centimeter mirror, with survey operations to scan the entire night half of the sky every 26 days to identify moving objects. Sentinel will orbit between Earth and Venus, scanning the skies near the Earth's orbit with the Sun at its back. After a five year period of development and testing, launch aboard a SpaceX Falcon 9 is expected in 2017-2018.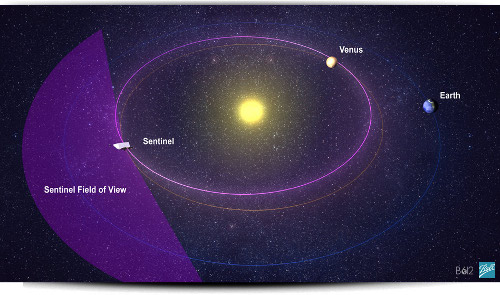 Image: Projected orbit for Sentinel. Credit: B612 Foundation.
The man most identified with the B612 Foundation is Apollo 9 astronaut Rusty Schweickart, who founded it and now serves as chairman emeritus. Says Schweickart:
"For the first time in history, B612's Sentinel Mission will create a comprehensive and dynamic map of the inner solar system in which we live – providing vital information about who we are, who are our neighbors, and where we are going. We will know which asteroids will pass close to Earth and when, and which, if any of these asteroids actually threaten to collide with Earth. The nice thing about asteroids is that once you've found them and once you have a good solid orbit on them you can predict a hundred years ahead of time whether there is a likelihood of an impact with the Earth."
Even better is the fact that getting to a dangerous asteroid in plenty of time — a decade or more is preferable — leaves us with a variety of options for deflecting its course, something we'd have little time to manage in cases like that of the recent close pass by asteroid 2012 LZ1, which turned out to be fully a kilometer wide and made its approach scant days after its discovery. The more eyes on the sky the better, for the deflection options, studied by the B612 Foundation itself ever since its founding in 2002, include slow-acting trajectory changers like 'gravity tractors,' in which a spacecraft deflects the object using only its gravitational field as it orbits the asteroid.
What lightens the hearts of space enthusiasts is the fast pace of development for projects like these now that commercial launches are becoming a reality. Sentinel will be able to take advantage of advances in computing as well as our accumulated experience with infrared sensing, but it wouldn't be in the cards if it weren't for the launch capability provided by the Falcon 9. It also relies on the combined efforts of scientists, entrepreneurs and venture capitalists, along with the individual contributions needed to raise the several hundred million dollars needed. Speaking of which, the B612 Foundation donation page is open for business.
It's interesting to put the fund-raising effort in the context of other attempts to fund major projects, as Ed Lu did when talking to Alan Boyle before the news conference announcing Sentinel in San Francisco. Boyle discussed the matter in his Cosmic Log column:
Lu pointed out that the estimated cost of the mission, amounting to a few hundred million dollars, was comparable to the cost of building a performing arts center, a museum, or a planetarium like the one where today's briefing was being held. The San Francisco Museum of Modern Art, for example, has raised more than $437 million in its current capital campaign. "There are 50 to 100 projects larger than ours going on at any time in the United States, and nobody bats an eye," he said.
And as Lu went on to recall, some of the observatories that are at the heart of astronomy's history were built with private financing, including the Lick Observatory, the Keck Observatory and Palomar. The guess here, given our crowd-source mentality in a time of government cutbacks, is that the B612 Foundation will indeed raise enough money to fly this mission, serving as a precedent for other such efforts. The Planetary Society's LightSail comes to mind, but private and commercial space efforts of all kinds are clearly on a fast upward trajectory.