When it comes to astrobiology, what we don't know dwarfs what we do. After all, despite all conjecture, we have yet to find proof that life exists anywhere else in the universe. SETI offers its own imponderables, adding on to the question of life's emergence. How often does intelligence arise, and if it does, how often does it produce civilizations capable of using technology? Even more to the point, how long do such civilizations last if they do appear?
We keep asking the questions out of the conviction that one day we'll start retrieving data, perhaps in the form of a signal from another star. It's because of the lifetime-of-a-civilization question that I'm interested in a SETI search focused on red dwarf stars. True, M-dwarfs have a lot going against them, as Centauri Dreams readers know. A habitable planet around an M-dwarf may be tidally locked, which could be a showstopper except that some scientists believe global weather patterns may make at least part of such planets habitable.
Flare activity is always an issue on younger M-dwarfs, though it's possible to conceive of this as an evolutionary spur, and we can't rule out life's ability to adapt to extreme circumstances. But despite all these unanswered issues, my interest in these stars draws primarily from two main points. First, they are the most common stars in the galaxy, comprising perhaps as much as 80 percent of the total. That gives us a huge number of candidates for life and potential civilization.
And while we can't say how long civilizations live, not being sure if we ourselves will survive, we can take heart from the idea that if enough of them come into being, at least a few may get past whatever culture-shredding 'filter' they encounter to move into a serene maturity. Here red dwarfs truly stand out, because they live so much longer than any other stars. Every red dwarf that has formed in the universe is still there, and we can expect such stars to live for trillions — not billions — of years.
I like the odds, but I'm also trying to imagine what a civilization would look like a billion years after the emergence of tool-making. Or five billion. If a culture can survive for aeons, it will have mastered issues of conflict that plague us daily and much else besides. Surely a mature species long past emotional and technological infancy would want to know about its neighbors. Would such a culture reach out to others, if only to exchange notes? Or would it have moved into realms of philosophy and thought that make all this irrelevant?
We're deep in imponderables here, but all we can do is look and listen. Thus I was pleased to see that the SETI Institute is initiating a search using the Allen Telescope Array that targets red dwarf stars. As the Institute's news release explains, we now believe that somewhere from one-sixth to one-half of red dwarfs have planets in their habitable zones, which is a percentage that may be comparable to stars like the Sun, and for all we know at this point, may exceed it.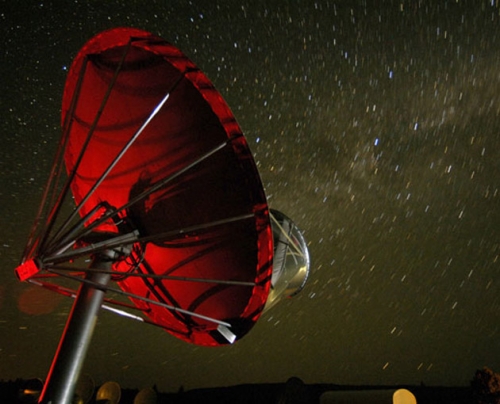 "Significantly, three-fourths of all stars are red dwarfs," notes SETI Institute astronomer Seth Shostak. "That means that if you observe a finite set of them – say the nearest twenty thousand – then on average they will be at only half the distance of the nearest twenty thousand Sun-like stars."
That, of course, means that we have a larger population of stars whose potential signal to us would be stronger. The SETI Institute is drawing on a target list of 20,000 M-dwarfs compiled by Boston University astronomer Andrew West, one that will incorporate new data as it is collected by missions like TESS, the Transiting Exoplanet Survey Satellite, slated for launch next year. Using the ATA's 42 antennae, the red dwarf survey will take two years to complete, working in several frequency bands between 1 and 10 GHz. Says Institute scientist Gerry Harp:
"Roughly half of those bands will be at so-called 'magic frequencies' – places on the radio dial that are directly related to basic mathematical constants. It's reasonable to speculate that extraterrestrials trying to attract attention might generate signals at such special frequencies."
My assumption is that as resources become available (never an easy matter), SETI will search broadly through the various stellar types — we can't know what we'll find until we look. But it's heartening to find a SETI attempt specifically turning to a category of star that has generally received little attention. It may well be that a race that is deep into philosophical maturity will have moved beyond beaming signals to other stars. It may, for all we know, have moved beyond biology! But let's keep up the search and learn as much as we can about the small red stars that pepper the cosmos and may, if in any way habitable, hold clues about life's emergence.